Building Your Self-Publishing StoryBrand
February 4, 2019 | Categorised in: Resources for Authors
---
When you're self-publishing a book, one of the key things that you will need to learn, unless you studied business, is marketing. Not only are you selling your book, but you are selling yourself and all you have to offer. Your readers will be more likely to read your book if they know you better. It's all about what you can offer them. No one explains this concept better than New York Times Best Selling Author, Donald Miller, the CEO of StoryBrand. StoryBrand is the revolutionary way to look at marketing, and how to better reach your audience. His book, Building a StoryBrand, breaks down why most marketing is a total waste of money unless you clarify your message.
Clarifying Your Message
In part I, Miller's book goes into great detail on how best to clarify your message. Whether that message is, "Why buy my [stuff]?" or, "Why read my [thing]?" or even, "Why trust me?" he explains that the main focus of your advertising should be your customer. The customer is the only common denominator in all advertising, but most companies, and even politicians, only focus on themselves, and their competitors.
Miller references a conversation that he had with a friend of his, Mike McHargue, who was much sought after in the advertising world before he left the field. McHargue reminds Miller about Abraham Maslow's hierarchy of needs.
Miller continues to explain that for someone to feel the need to buy whatever it is you're selling, you have to tell them why it is they need it to survive. Which need in the hierarchy does your product fill? How can you clearly, effectively, and quickly convey this need? Answering these questions is how you clarify your message.
StoryBrand 7-Part Framework
In Part II, Miller breaks down his StoryBrand 7-Part Framework (SB7), which is how you build your StoryBrand; making your customers the "hero" of your story.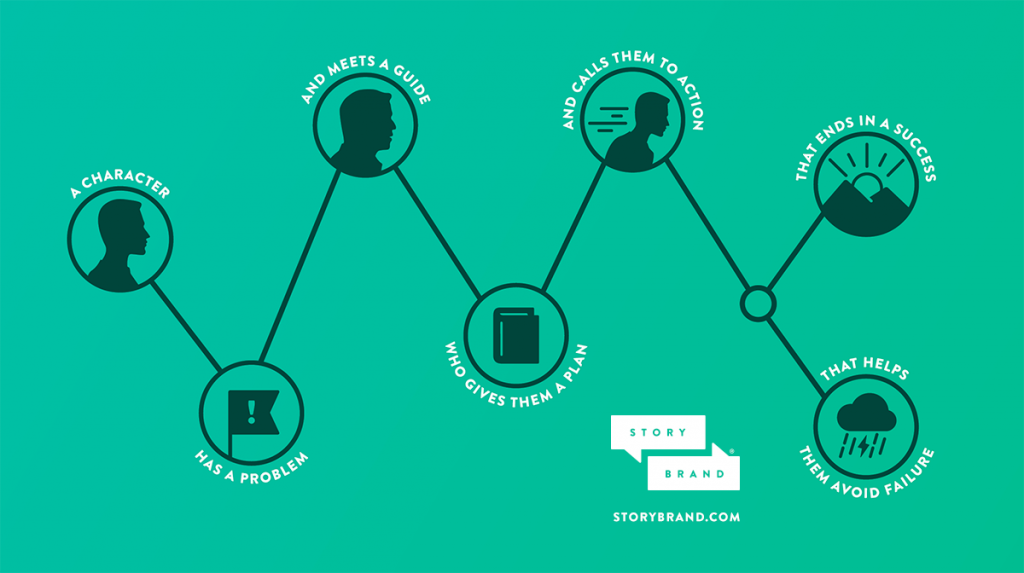 Just like with storytelling, you have a character (your customer/readers); they have a problem; they meet a guide; who gives them a plan; and calls them to action; that helps them avoid failure; and ends in a success.
The main emphasis of this entire story is to express empathy and authority. You are stepping into the shoes of your customers, expressing empathy, anticipating their needs, and exuding authority by being competent about what you have to offer and letting the product speak for itself through credible sources. Use testimonials, awards, affiliations, or statistics; whatever works best for what you have that has the most impact on the customer's perception of your product.   
Implementing Your StoryBrand BrandScript
In part III, Miller lays out what you need to do once you've got your message clarified and your StoryBrand BrandScript; put it to work for you. Rebuild your website, blog, or advertising platform to reflect your BrandScript. If you're working with others, make sure they know your StoryBrand BrandScript; everyone that will be talking to your potential customers should be familiar with your BrandScript. A unified BrandScript is essential for your message to be as clear as possible.
Miller concludes his book with StoryBrand Marketing Roadmap; a step-by-step guide on how to execute your StoryBrand BrandScript.
Miller wraps up his book  by telling us that "The StoryBrand Framework was created… so you would be heard in the marketplace, grow your business, and transform your customers' lives." Remember that your book is your product, and that by reading your book, your customer's lives will be changed. Building a StoryBrand can help change how you look at pitching, not only your book, but yourself to others in the industry, as well as your readers.
Building a StoryBrand Website & Blog  |  Building a StoryBrand Podcast
---
Tags: branding, marketing, self publishing, self-publishing tips, storybrand